You are here:
Solutions

CNC manufacturing
CNC joinery machines used to process simple parts and standard components. In this day and age, CNC technology is being used for all kinds of parts and construction types, including highly complex compound joinery. Modern manufacturing equipment such as five axis joinery machines and wall production lines allow fast and super precise production and therefore short delivery times and consistent high quality.
It's essential to be able to quickly create machine data and manufacturing drawings for various building systems and from all kinds of software solutions. cadwork offers various different interfaces such as DXF/DWG, IFC, SAT or BTL 10.2 so the manufacturer can take over files from architects, engineers or builders. It's even possible to import manufacturing details or entire 3d structures from other software solutions and change them using cadwork before you send them to the machine.
The viewer mode allows a detailed preview of the parts to be manufactured. Cadwork features a huge library of timber joinery details such as mortise and tenons, dove tails, scarf and shoulder joints, log dovetails and others. There is also a huge library of hardware parts such as hangers, steel plates and bolts.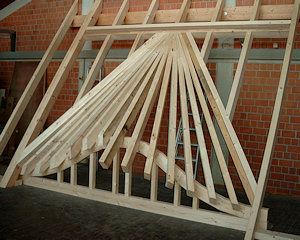 Ease of use and an automated creation of the manufacturing data for the machines from the 3d model guarantee a quick and efficient high quality production. Use cadwork to create installation drawings with detailed information including assembly order, part numbers. In order to better understand the assembly process you can also create explosion drawings. There won't be any questions or problems on site, cadwork is able to create CNC data for almost any kind of automated equipment in the timber building industry such as machines from Hundegger, Schmidler, Weinmann, any many others.
In order to be flexible you only need to invest in one machine interface and we allow you to create production data for all single beam processors. That comes in handy if you use different cutting machines or if you decide to hire other producers.